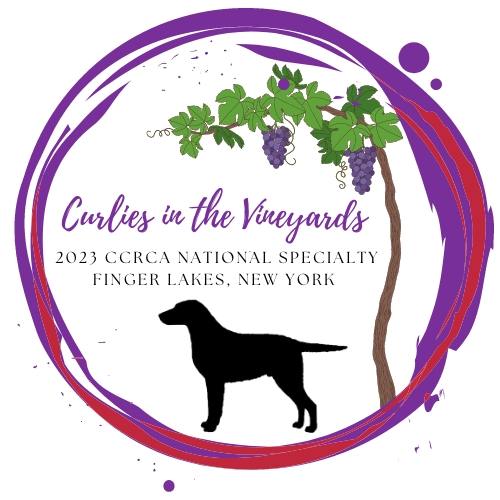 | | |
| --- | --- |
| Show Chairperson: | Bonnie Unangst |
| Field Chairperson: | MaryAnn Minner |
| Raffle/Auction: | Karen Alunni |
| Hospitality: | Virginia Donovan and Althea Donovan |
| Emergency Coordinator: | |
| Trophy Donations: | Tori Lima |
| Ribbons: | Aubrey LaCrosse |
| Versatility: | Aubrey LaCrosse |
| Logo Merchandise: | Bonnie Unangst |
| Catalogs/Ad Sales/Editors: | Stephanie Ayers and Jennifer Harms |
| Judges Liason: | |
| Judges Education: | Mary Holkenbrink |
THANK YOU TO ALL WHO CONTRIBUTE TO MAKE OUR NATIONAL SPECIALTY A WONDERFUL EVENT CELEBRATING OUR CURLIES!
---
Schedule
Monday 09/25/23 Upland Working Certificate Tests; Super Singles
Tuesday 09/26/23 Working Certificate Tests; Cook Out and Awards on site, Wine & Cheese Welcome Party and Meet the Breeder Speed Dating event
Wednesday 09/27/23 Sweepstakes, Judges Education, General Meeting
Thursday 09/28/23 National Specialty, CGC and Trick Dog Testing
Friday 09/29/23 Obedience, Rally, Agility, and Banquet, Wine Country Circuit, GLCCRC Supported Entry
Saturday 09/30/23 Wine Country Circuit, NCCCRC Supported Entry
Sunday 10/01/23 Wine Country Circuit; CCRCA Supported Entry
---
Premium Lists
National Specialty - Rau Dog Shows
Field Events - select "specialty events" on left side
Agility
Wine Country Cluster Premium and Supported Entries, Obedience, & Rally
Versatility Challenge 2023 - Due September 6th
Send the completed form to Aubrey LaCrosse by or by mail to N6111 Town Hall Rd. Mayville, WI 53050

---
Merchandise
Here is the link to the site and the access code - 0718. CLosing Date is August 6, 2023
There are 30 items available in multiple colors! Yes, 30!

Adult - Mens, Ladies, Unisex
Youth, toddler, and infant - we need the kiddos in merch, too!
Outerwear, sweatshirts, t-shirts, performance shirts, polos, hats
All merchandise must be picked up at the Specialty or have a friend pick it up and ship it to you. The store and I are unable to ship.
You need to enter a shipping address just for completion of the order. There is NO shipping.

Please read the description carefully; you are responsible for your selections

If you have questions, please reach out to , not the store
We included many, many colors. On each item there is a link called COLOR SWATCH that you can click on and a small window with color samples will open
Only outerwear has the option to add a kennel name (under uniform name)
---
Host Hotel
41 Lakefront Hotel Trademark Collection by Wyndham
41 Lakefront Drive Geneva, NY 14456
315-789-0400
CODE: 092423CUR
Others
Microtel Inn & Suites by Wyndham Geneva 550 Hamilton Street Geneva, NY 14456 315-878-8055 Hampton Inn Geneva43 Lake Street Geneva, NY, 14456 315-781-2035 Days Inn by Wyndem Geneva, Finger Lakes (no pets) 485 Hamilton Street Geneva, NY 14456 315-789-4050
AirBNB or VRBO
Search Romulus, Ovid, Geneva, Waterloo Look to stay on the north and east sides of Seneca Lake or the east side of Cayuga Lake Map locations to Sampson State Park!!
---
RV Parking/Camping
Sampson State Park Campgrounds *at show site*
6096 Route 96A Romulus, NY 14541
**Coordinated with the Wine Country Circuit and CCRCA**
More Information

Seneca Lake Resorts *at show site* Located on Seneca Lake at Sampson State Park and Marina
Cabins - some pet friendly
Independent of Sampson State Park Camping

Waterloo / Finger Lakes KOA
1278 Waterloo-Geneva Rd Waterloo, NY 13165
Reserve: 888-907-0445
Info: 315-539-8848

Sned-Acres Family Campground
6590 S Cayuga Lake Rd Ovid, NY 14521
607-869-9787
snedacresny@gmail.com
---
Health Clinic
https://www.raudogshows.com/wp-content/uploads/Wine-Country-Camping-2023-PL-1.pdf
---
Donors